Charter Bus Rental Texas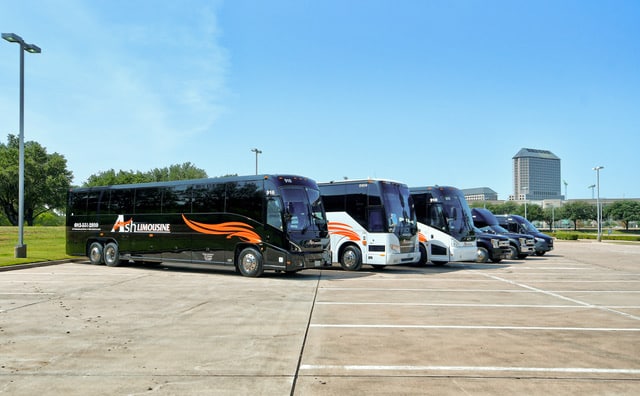 Renting a charter bus can be a great option when you need to transport a group of people. Whether it is for personal or professional reasons, there are various advantages that come with charter bus rentals. For those that are in the Dallas, TX, area, a great company to hire for all of your bus charter service needs is Ash Limo.
Dallas Bus and Van Rentals
The Dallas, Texas, area continues to be one of the fastest-growing cities in the country. Due to this, Dallas provides a lot of fun opportunities for tourists and can be a great place to gather for a business meeting. If you are going to travel with a larger group, you will want to know that they have a safe way to get around and have an enjoyable overall experience. One of the best ways to do this is with a Dallas bus or van rental.
There are various advantages that come with renting a bus or van. One of the main advantages is that you will know that it is safe and reliable. Trying to travel together for a group of people through individual car rental, taxi cabs, rideshare, or public transit can be complicated and confusing. It will also frequently result in the group being broken up. When you use a bus and van rental service, you will know that everyone has a safe ride and the group stays organized.
Cruise on Your Terms
If you are coming to the Dallas area, you will have a lot of activities that you want to participate in and enjoy. Due to this, you will want to have the freedom to create any schedule that you want to follow. When you hire a charter bus rental service, you can build a service plan based on the terms that you need to maximize your experience. This will include providing you with access to the bus for a period of time and giving you the flexibility to enjoy any experience that you want.
Whether you are organizing charter buses for your high school or college trip, work outing, or even government job task, we can accommodate all of your needs.
Why Choose Ash Limo?
Anyone that is traveling with a group in the Dallas, TX, area should consider hiring a local charter bus rental service. When you hire a local service, you will know that you have safe and reliable service that will help maximize your experience. When looking for a bus rental service, you should contact Ash Limo to learn more about their services and even book your next rental today.